" New dash Splits"
In Swedish

From 1/10 -52 To 9/3 -53
"Zwitter", "Late Splits", "Oval dash Splits", "Der Zwitter", "The Bastard",
or just a "puttogetherpiece", anyway the Zwitter has many names.
During that period VW-Verk produced "only" 57928 cars.
The today rare Vw-model with dekorationtrim in the splits together
with some other changes I will try to give a detaild description of below.

First a look at the instructionbook
and a presentation from the salesbrochure.

And a German foldoutinfo!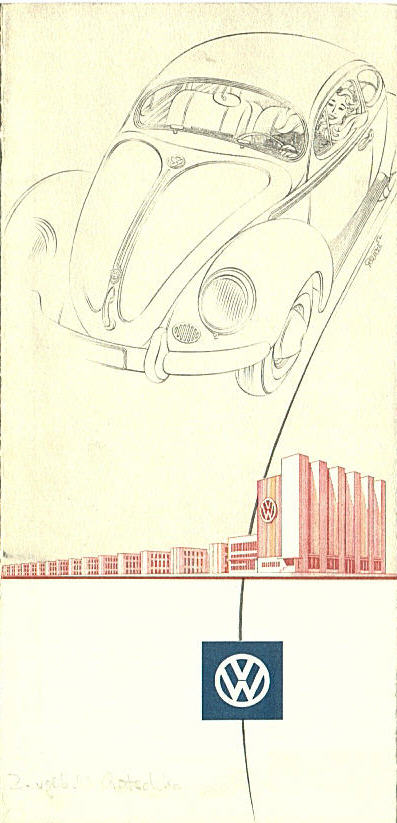 ---

Date	     Chassis No	Change	 						Comments
01-10-52   1-397023 Aluminiumtrim in splitwindows, new dash, 			First Zwitter of 31123 cars(-52) .
			with new startbutton, Speedometer, 			Ventilationswindow are
			Indicator switch lever, gloweboxdoor, buttons,		missing "hook" !?
			etc, Wolfsburg emblem in hornbutton, intternal light  		
			above left door pillar whitout switch, ventwindows,			
			new inside handles, new knobs,15 wheel rims,		 
			40mm "fueltankfillerneck", Hearttail-lihts, oval horngrills, 		
			Broad profile on bumpers, Mouldings anodized		Oilbath air filter fitted
			and "polished" aluminium, decklid, Hoodhandle  		on some models.
			new look in aluminium, T-handle on enginelid,		The new tankneck intoduced
			Synchromesh gears on 2,3 and 4 gears, 28 PCI 		probably earlier ca Chnr 365000
			carburettor with axelleration pump, rear wheel  		Ventilationwindowtrim in aluminiun 
		 	brakecylinder17,5 mm diameter, fine 			on cab-models!	
			adjustment on heaterknob, fishbone pattern on cloth,	Heating adjustment with L&R.
			aluminium-moldings on inside doorpanels, Rubber floor mats
			with press studs, VW emblem with "holes" ", 
			ashtray whithout handle,
			new rearmirror, new chairs, Cranc operated 
			window 3 ¼ turns, padding in front of engine bay, spare 
			V-belt dropped.


15-10-52		Spare V-belt included in toolkit".
??-11-52		Felt cone airfilter with flame-trap,
01-01-53   1-428147								The first-53 Zwitter of 26805 cars(-53).
02-01-53   1-428157	New typesign 1/11 och1/15
			formerly 10/11 och 10/15, oilbath air filter.
15-01-53   1-433397	28 pci carburattor!
21-01-53   1-435509	Valve clerance redused to 0,10mm earlier 0,15.
??-01-53		Smooth "semaphores"					Not sure! probably
14-02-53   1-441708	Adjustable door striker plates.				first jan -54???
??-02-53		Bothsided arrow in speedometer.			Formerly L/R arrows .
07-03-53   1-454951	The "fueltankfillerneck" 80mm again.
09-03-53   1-454951								Last Zwitter and Split were produced.
10-03-53   1-454952	Ovalbackwindow, handgrip on ashtray, 			First oval were produced.
			"polished" trimmouldings.10 watt bulb in interiourlight
			earlier 5 watt.

---
The engine number should be between No    1-481713  to  1-551113.

The Cars were delivered in one of these coulours.		Pastellgreen	Coulor No L-11
								Azurblue       	Coulor No L-36
								Blue    		Coulor No L-31
								Castainebrown	Coulor No L-73
								Sand	     	Coulor No L-90
								Black 		Coulor No L-41
								Pearlwhite	Coulor No L-87
								Fieldgrey   ?	Coulor No L-243   ?

The clothcoulor were of brown or bluetextile with fishbonepattern!? 

The Cabriolets  were often twotonepainted for example Darkbrown/lightbrown.
Unfortunately I miss these coulour kombinations and No.
Only 831 Cabriolets were produced, so they are rare.

Follow links:
Steve Mullers Cab.  
Locked in a time warp.
Woffes Zwitter.
The history of the 1950 Zwitter !!!!! (or the 100 experimental cars)
---

					Startbutton,the striped ashtrayhandle,
					the smooth kromed whiperarms,25 hp
					engine,trippswitch to interior-
					light and bad situtated brakefluidreservoir
					were all still on the car hole year of-53.
                  

Thanks to  Bengt Holme"n, Tomas Johnson, Linkan, Magnus Wiksten,"The Ovalguy", Volkswagenwerk
   "fakts" from The Beetle/Hans-Rudiger Etzold, Folkvagnen. Hot VWs/Jeff Walters. 	
If You have information,  a picture  or a "adjustment" considering above, send it to me.